Pregnancy photos are one of those things you'll be thankful you did both after your baby's arrival and for many years down the road. If you're looking to make a splash with your upcoming maternity photoshoot, why not take things to the beach (see what I did there)? Before booking your beach maternity session, check out these 32 maternity beach maternity photoshoot ideas for a little inspiration.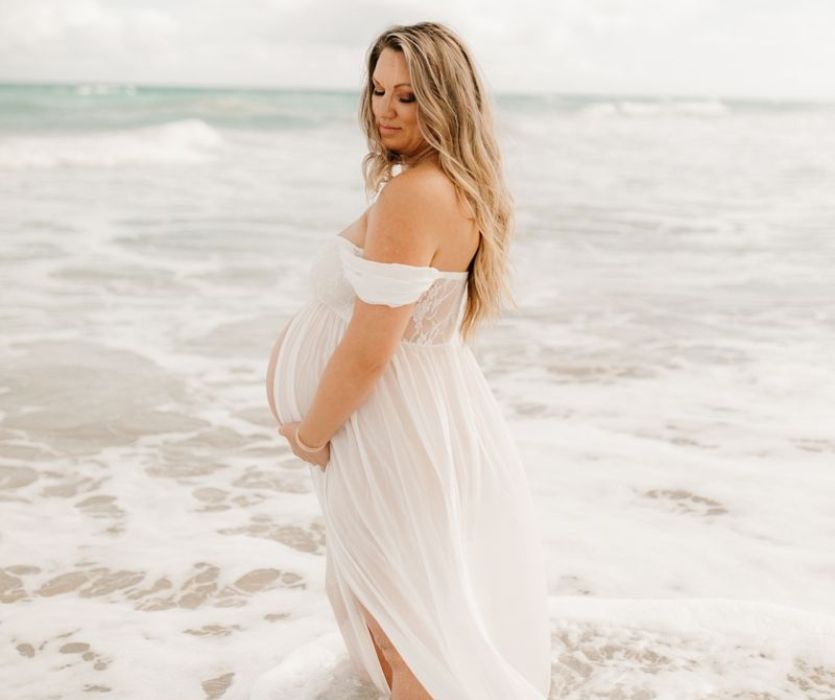 Find The Look You Love
Professional hair and makeup? Ponytail and fresh face? Choosing the perfect look for your maternity shoot really depends on what makes you feel both comfortable and beautiful. While a flowy gown and floral crown make for a fantastic photo, if you feel more you in neutral outfits or casual maxi dresses, go with those instead. Some photographers offer a client closet as part of their session packages, so be sure to ask if you're having a hard time finding an outfit you love. There's also Bird Style Box (our very own curated clothing subscription box) which is full of gorgeous maternity looks to try.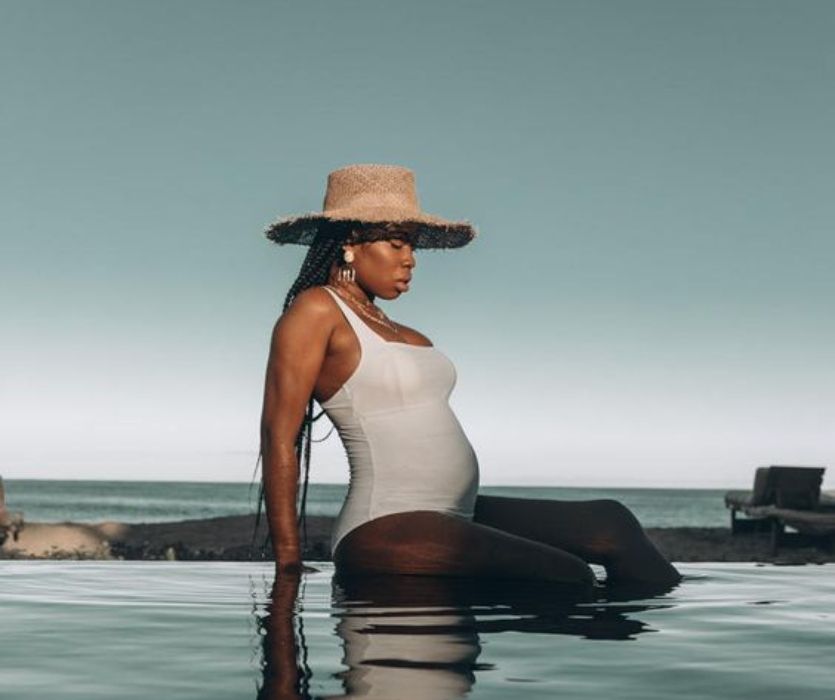 Channel Your Inner Swimsuit Model
It's not a beach maternity photo shoot without at least one bathing suit pic, so throw on that bikini, tankini, one-piece – whatever you've got – and get ready to strut your stuff.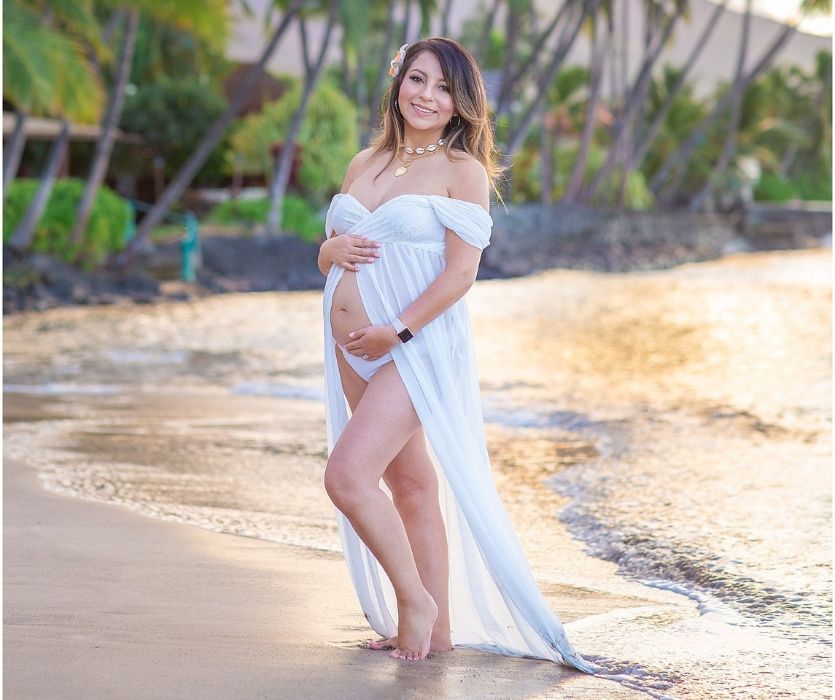 Accessorize With A Coverup
A coverup is a great way to take your swimwear up a notch and can also help add a bit of variety to your swimsuit photos. When they're as pretty as this one, who needs a maternity dress?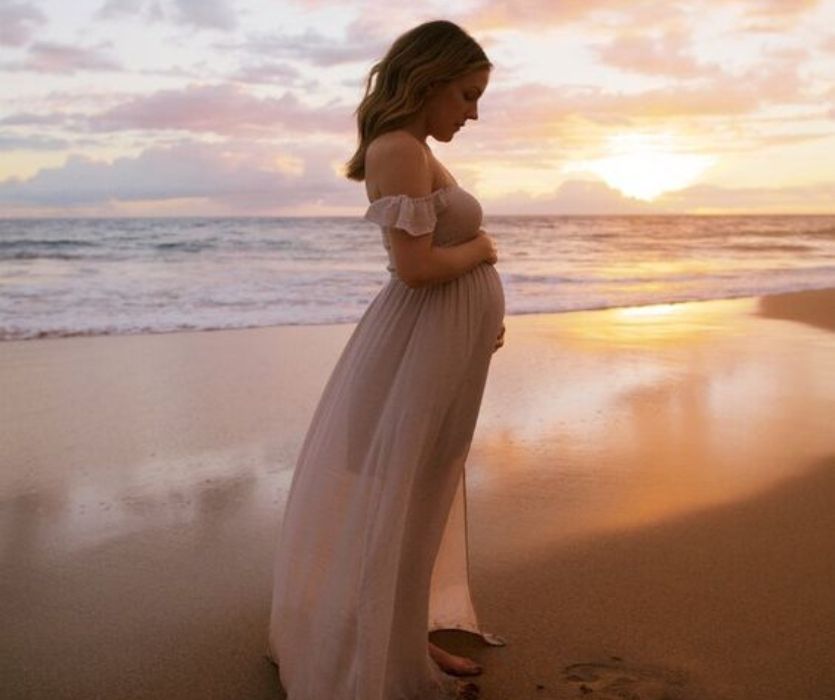 Hunt For The Light
There really is nothing better than a beautiful portrait captured during the golden hour, which is the best time of day to shoot according to many photographers. Head to your location in the last hour before sunset or the first hour after sunrise to get a coveted magic hour shot.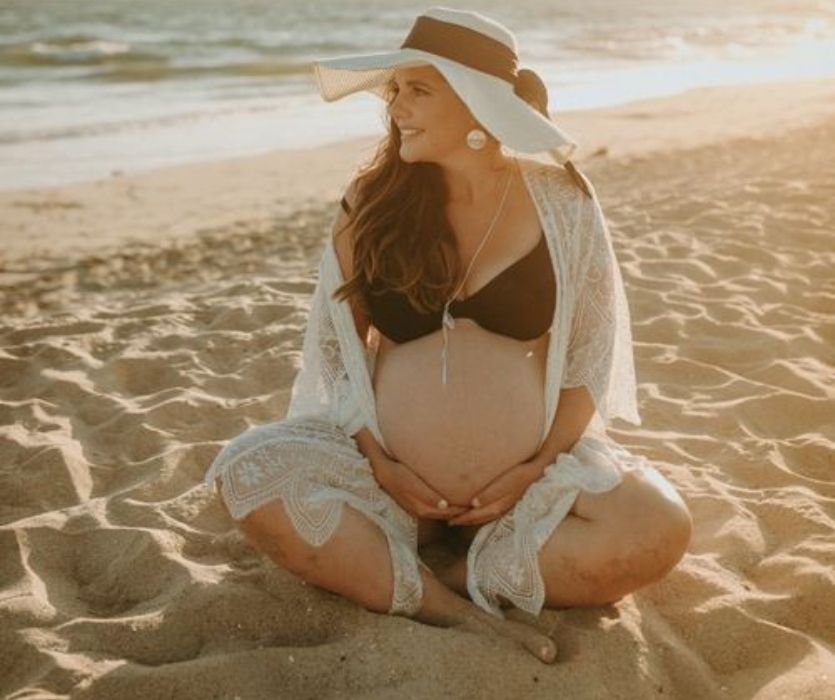 Show Off Your Belly
When people say that pregnancy looks good on you, they're not kidding. A beach photoshoot is the perfect excuse to show off your gorgeous pregnant belly.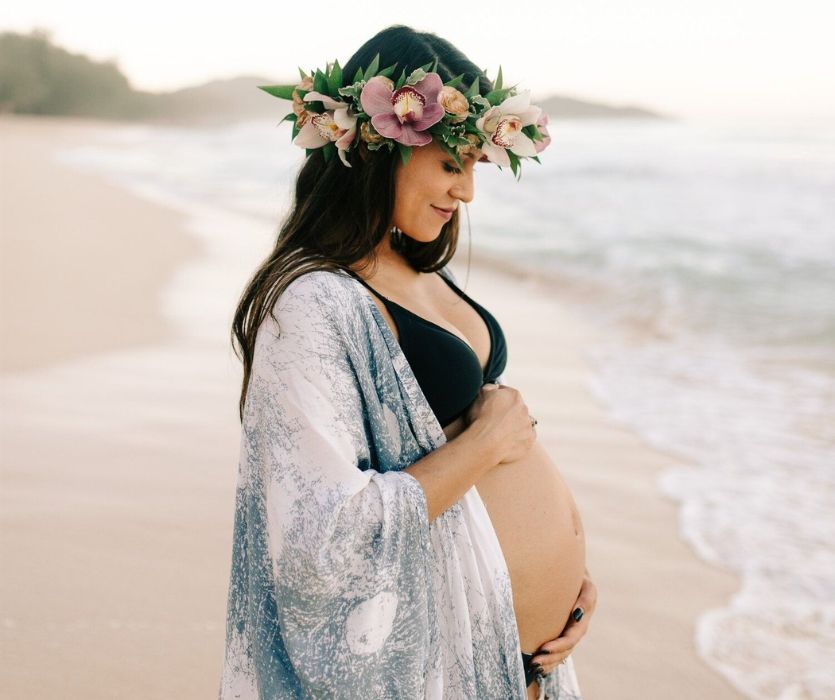 A Maternity Shoot Staple
The only thing more perfect than a beautiful beach backdrop is the quintessential maternity shoot "cradle" pose. It's a classic for a reason!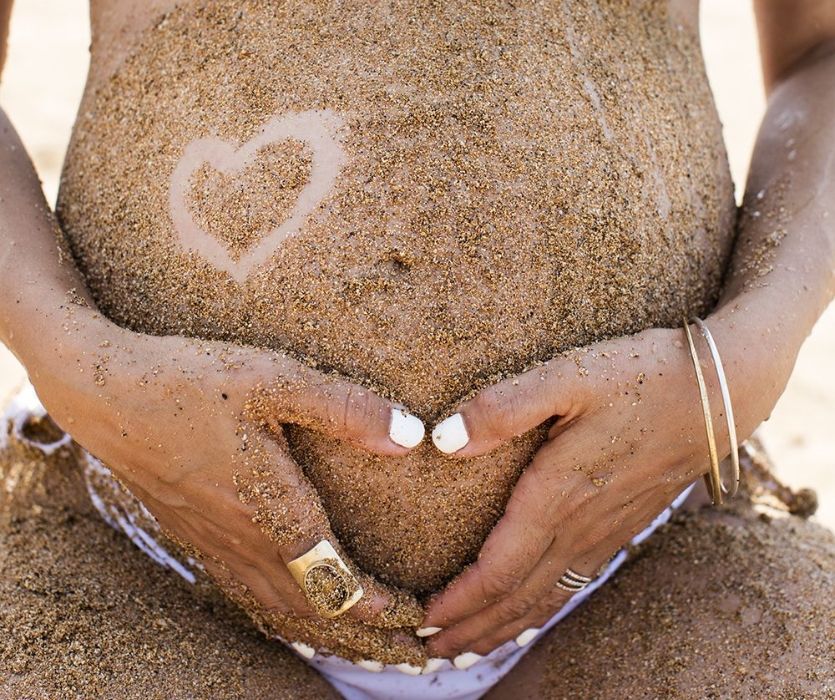 Get Down and Dirty
Sand is a natural exfoliant, right? You may need to get a little creative in getting the sand to stick to your belly, but it's a photo that'll stand out in any baby book, for sure.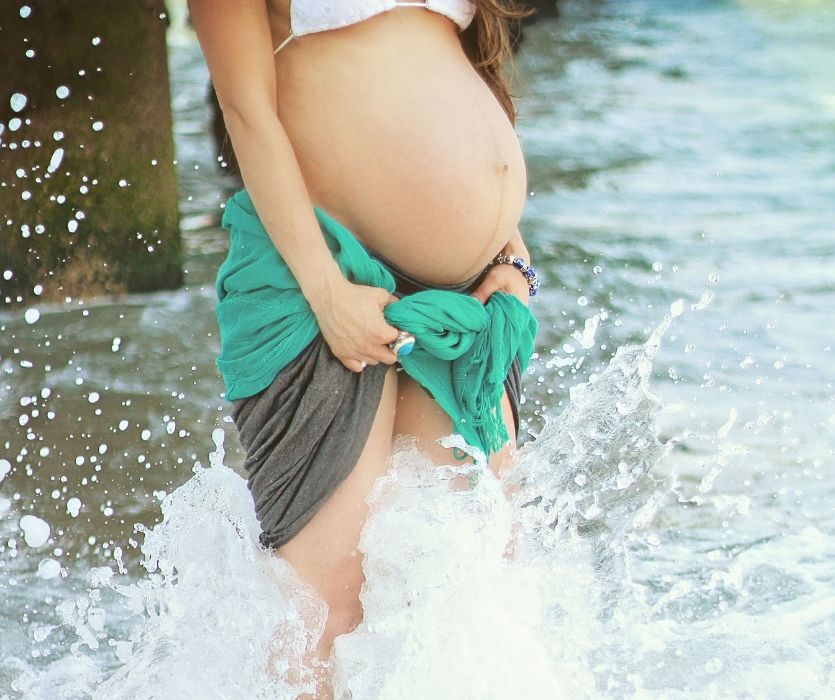 Make a Splash
Take your maternity photography session to the water for a little change of scenery and maybe even an outfit swap. Just watch out for big waves!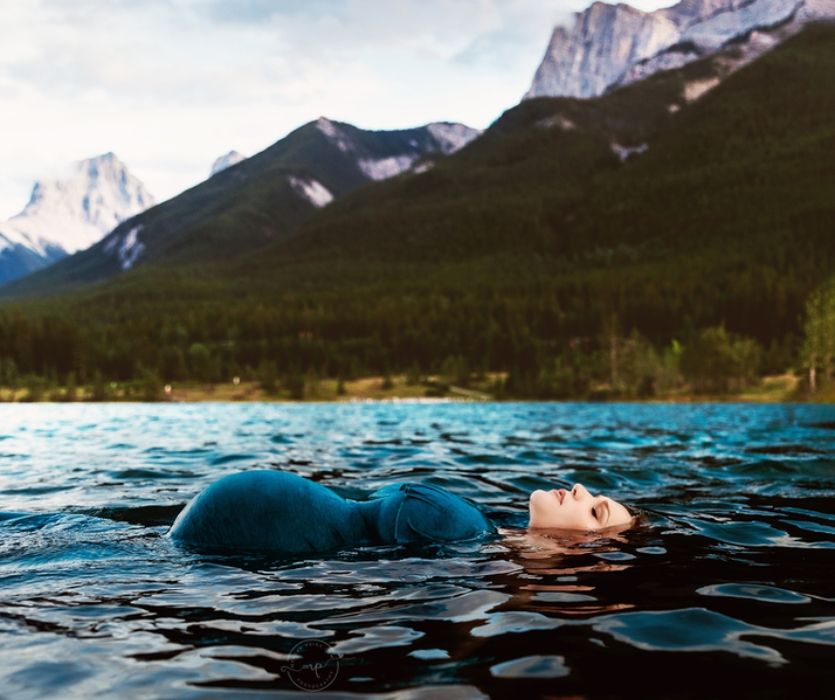 Go for a swim
You're probably sweating anyway, might as well go for a swim! Keep your clothes on for a photo that'll definitely get people talking (but save this part of the photoshoot till the end!)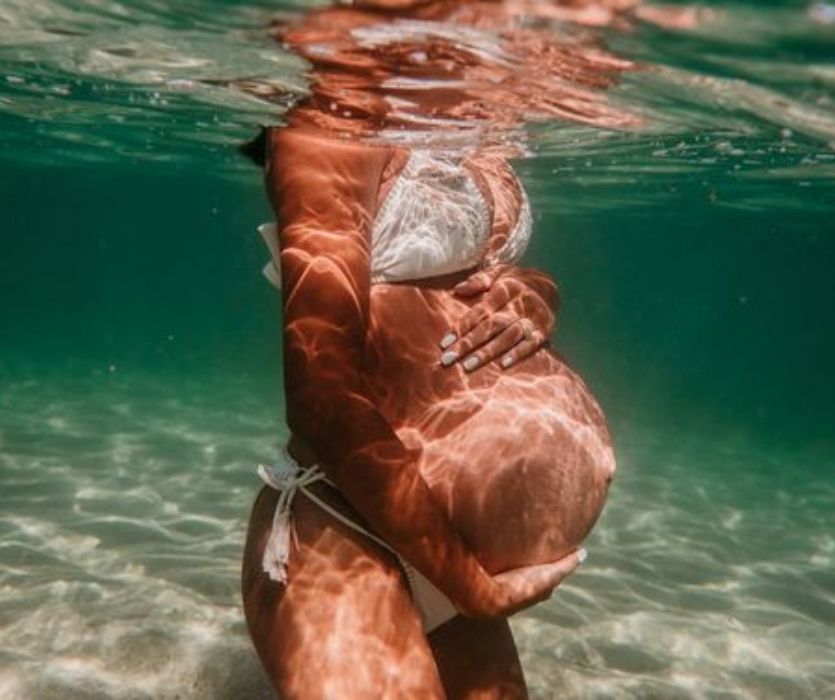 Underwater Baby Bump
If you're taking a dip anyway, grab a waterproof camera to snap a mermaid's-eye view of your bump. This is such a fun and unique idea for a maternity photo; I wish I had a time machine so I could get one for myself.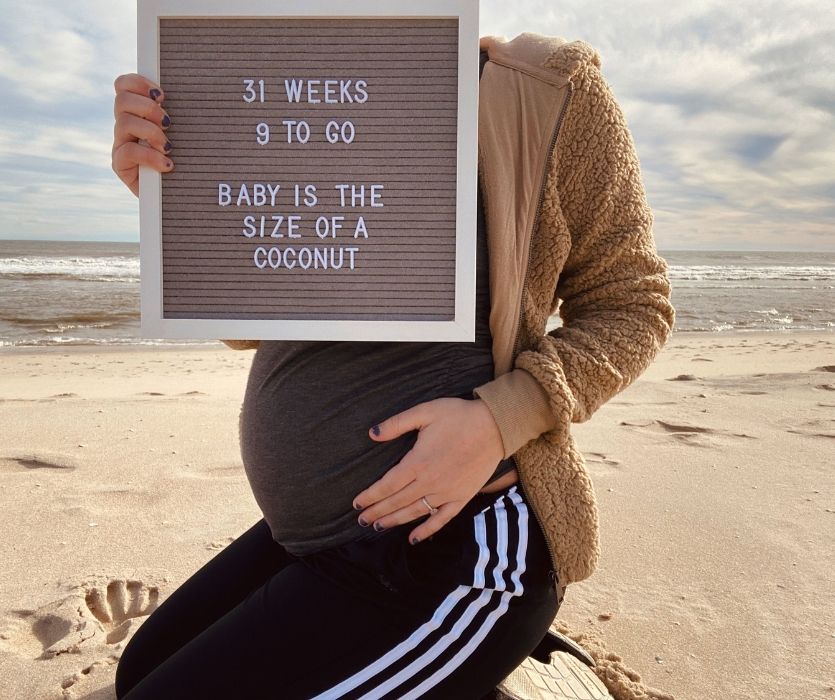 Capture the Moment
I love the idea of swapping out traditional "Baby is the size of this or that fruit" comparisons with some beach-themed critters and plants. It also gives you a great reason to visit the beach on a weekly basis!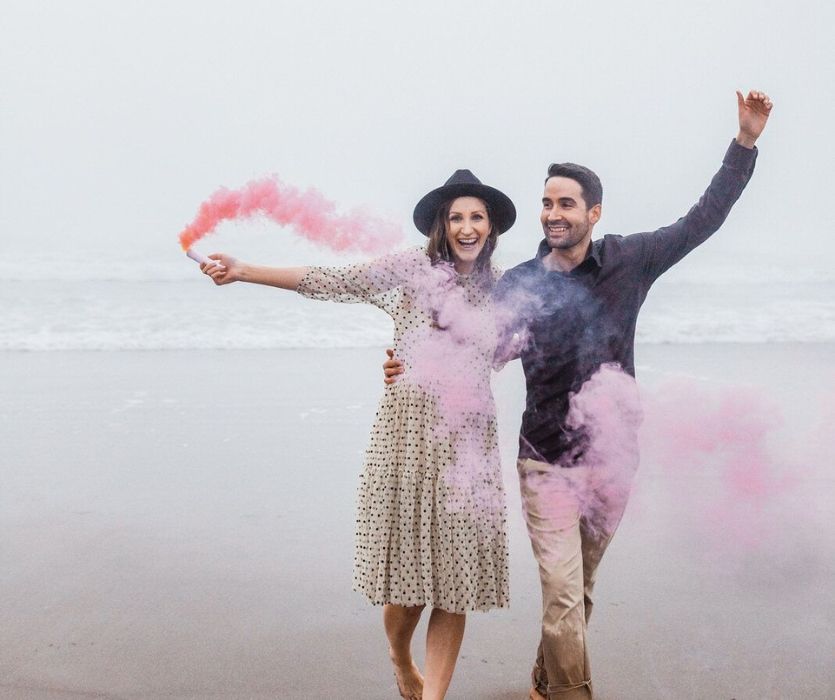 Share Some News
Got a fun announcement to make? Let the beach be your backdrop!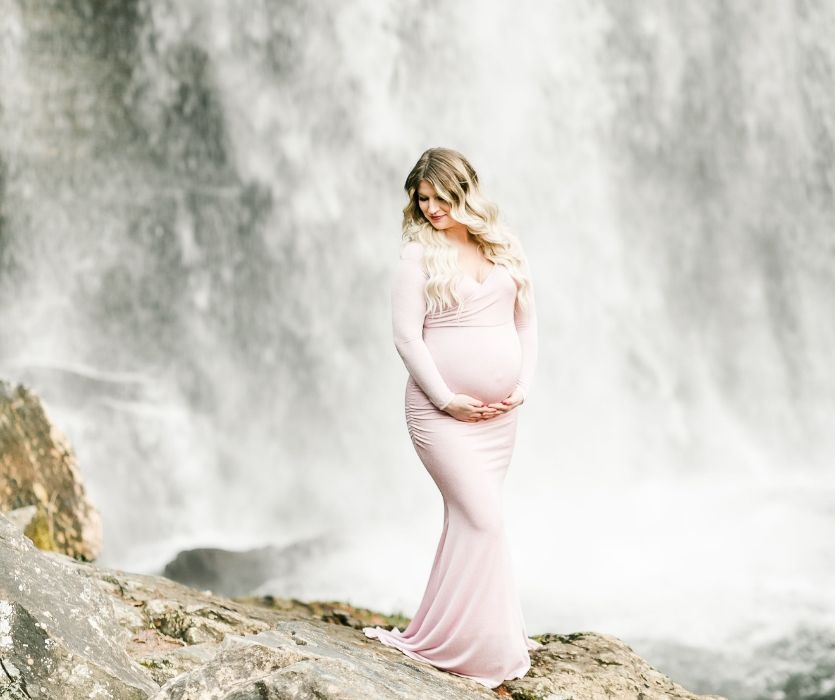 A Photo You'll Fall For
Don't go chasing waterfalls – except in the case of your maternity photoshoot, where I definitely, definitely recommend finding one for a majestic picture like this.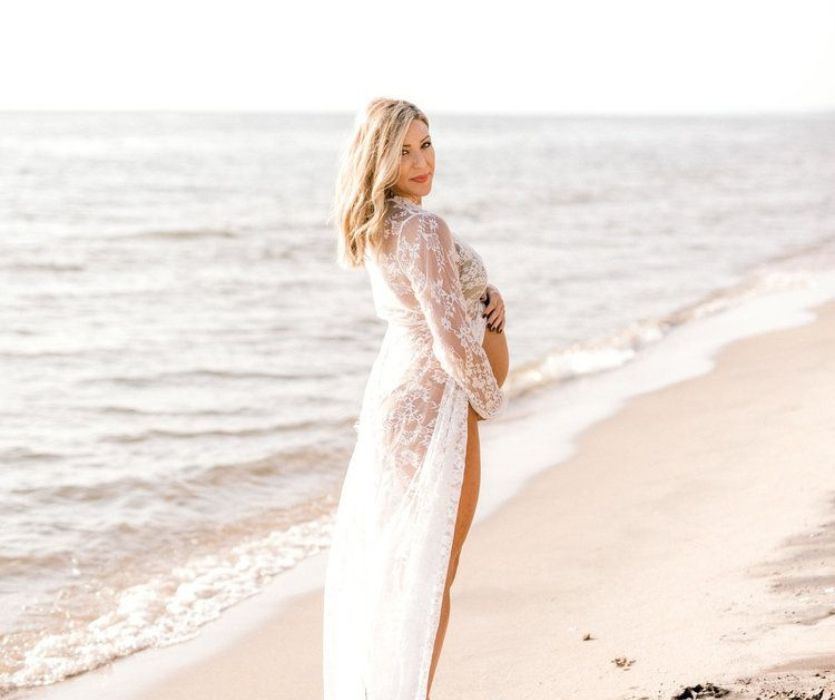 Gettin' Lacy
There are tons of beautiful patterns and styles of lace out there – find a gorgeous coverup, dress or top for an easy way to dial up the wow factor of your photoshoot.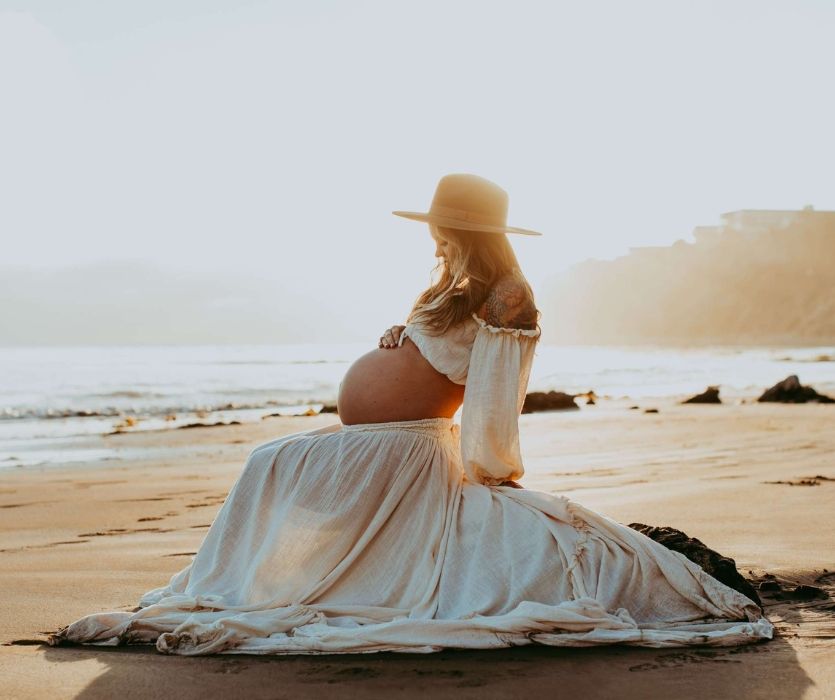 Beachwear with a Twist
There's something fun and unexpected about seeing a big floofy skirt worn on the beach. Add in a pregnant belly, and we've got what I call perfection.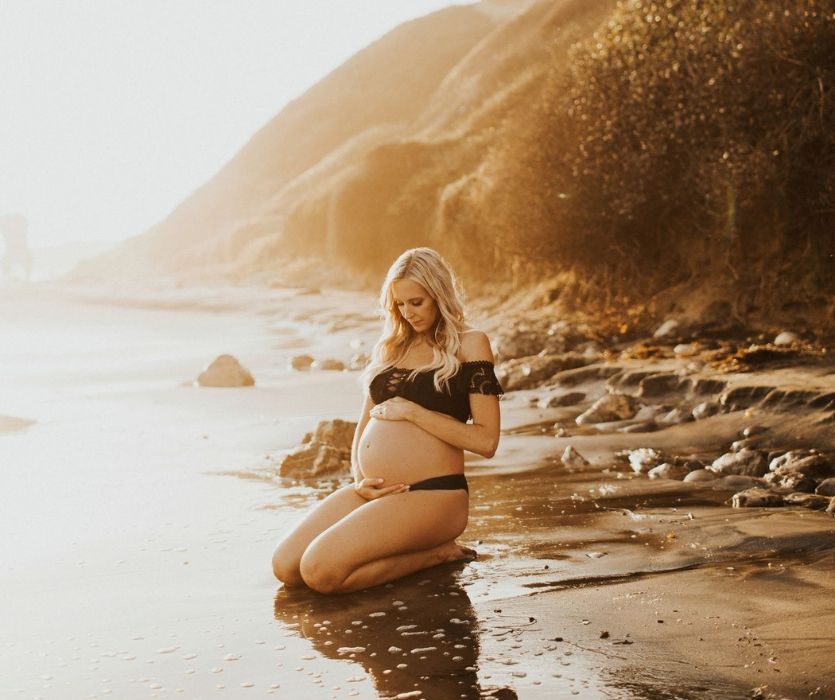 Perfect Your Pose
Study those SI Swimsuit models for inspo on the perfect pose, or just do your thang. Your photographer is a pro at finding the best angles for a stunning photo, so let them do the rest.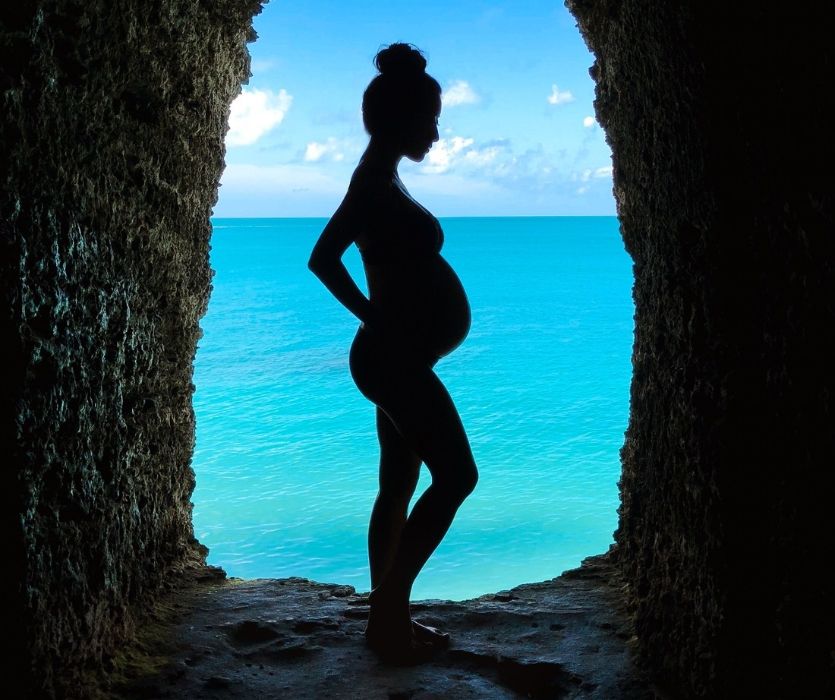 Snap a Silhouette
Silhouette pictures are such a visually interesting way to photograph the beauty of pregnancy, and the ocean in the background makes the photo even more breathtaking.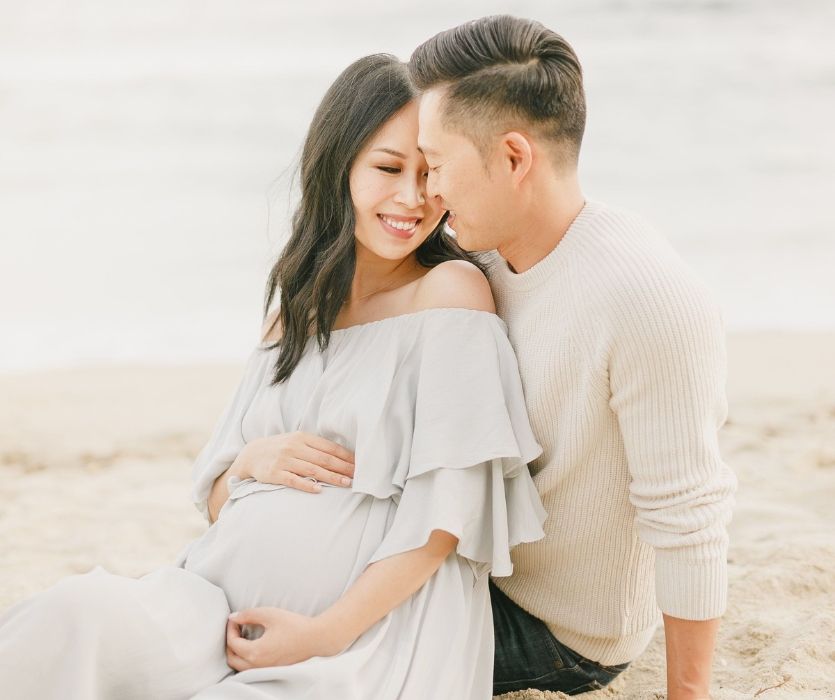 Get Flirty
A little laughter and a kiss or two goes a long way in capturing a sweet moment and the perfect couple's photo.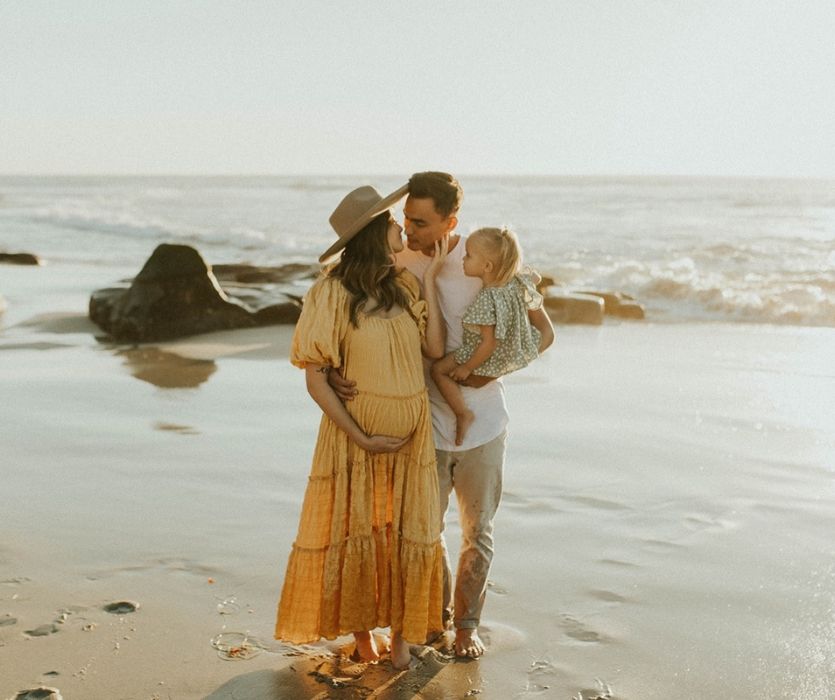 Bring the Whole Family
Maternity photos are the perfect excuse to book a family session to capture the days before your crew welcomed a new member (or more than one!) It's always special and sentimental to look at how your family has grown over the years, so be sure to book family photos after your pregnancy, too.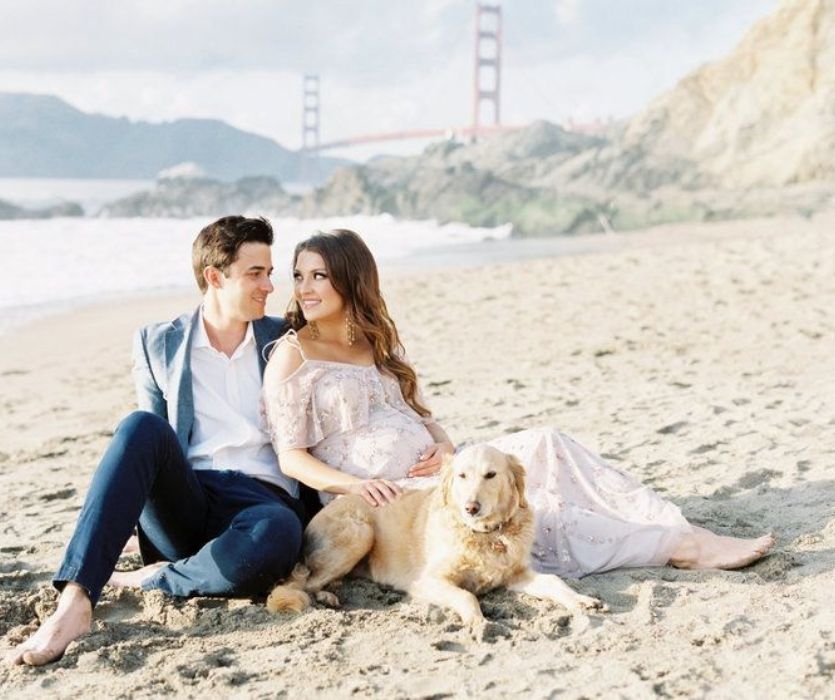 Don't Forget Your Furry Friends
There's a good chance your pup would never forgive you if they found out you didn't bring them along for a day at the beach, and they do make a pretty sweet addition to a classic maternity photo, so this one is pretty much a must.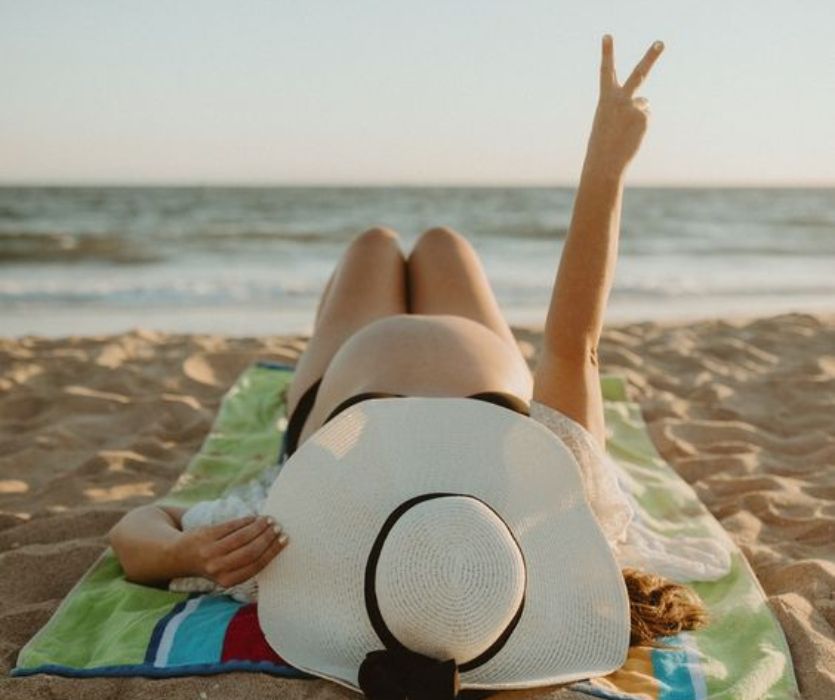 Make it a Beach Day
Candid photos often make some of the best, so bring a towel, a great book and your favorite beach attire and let your photographer get snappin' while you try a few different poses to kick back and relax.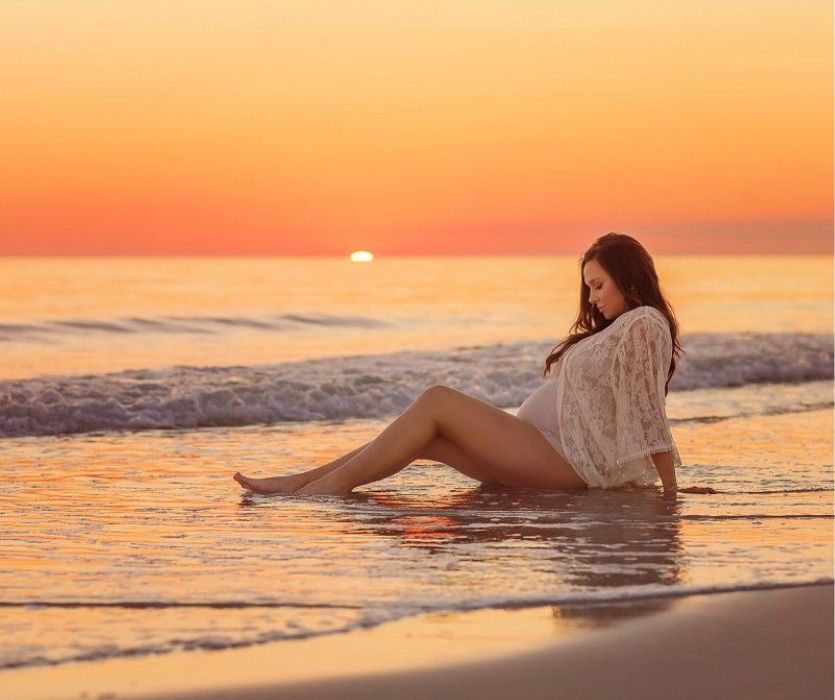 Sunrise or Sunset Glow
There's no need for any filters when your maternity beach photoshoot takes place during the most magical time of day.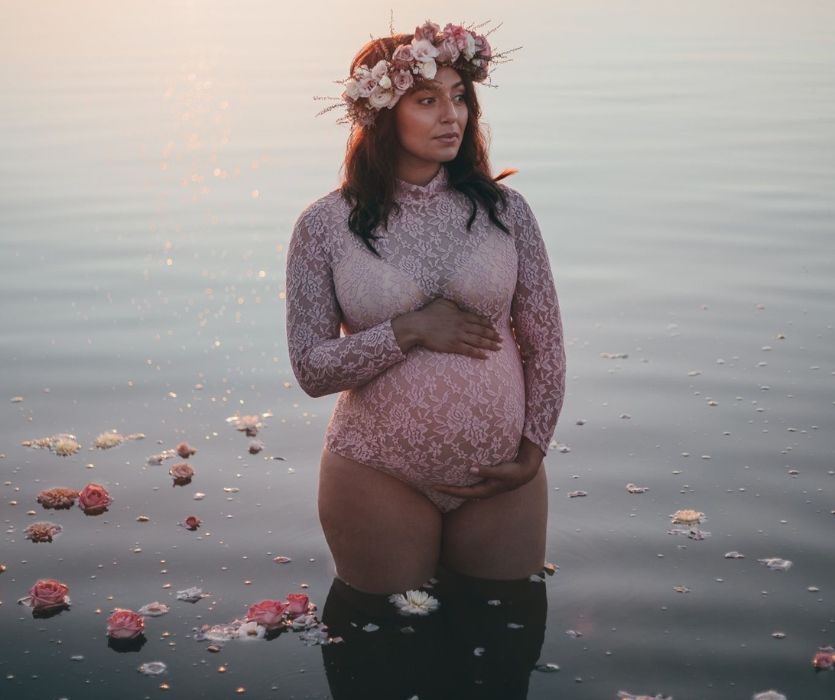 Just Add Flowers
They look good, they smell good, why not? Crowns made of flowers and foliage represent love, fertility, and celebration throughout history and around the world. They really are the perfect fit for a stunning maternity portrait.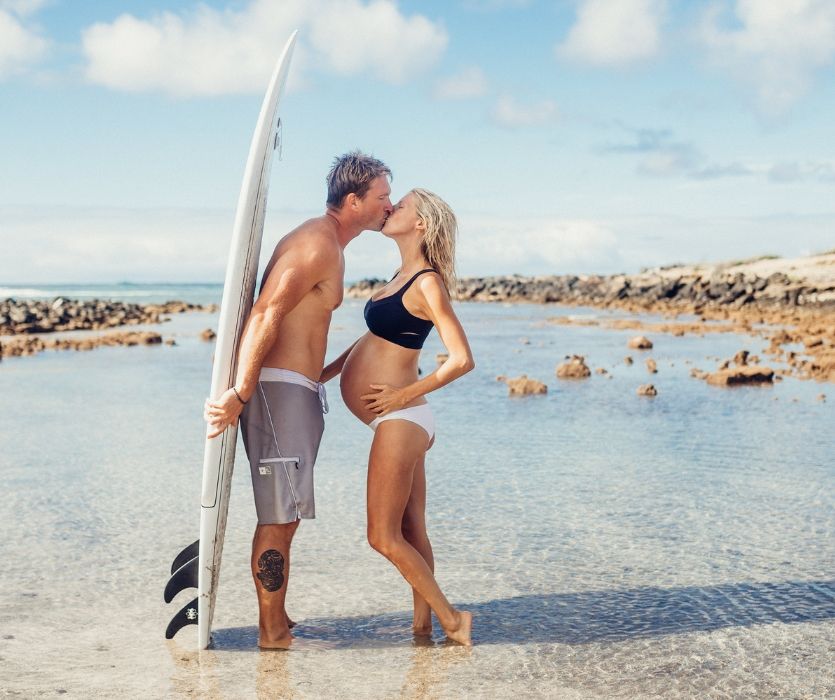 Surf's Up
In case your baby ever grows up to be a kid who needs a reminder of how cool their parents were (and still are), a photo like this can serve as everlasting proof.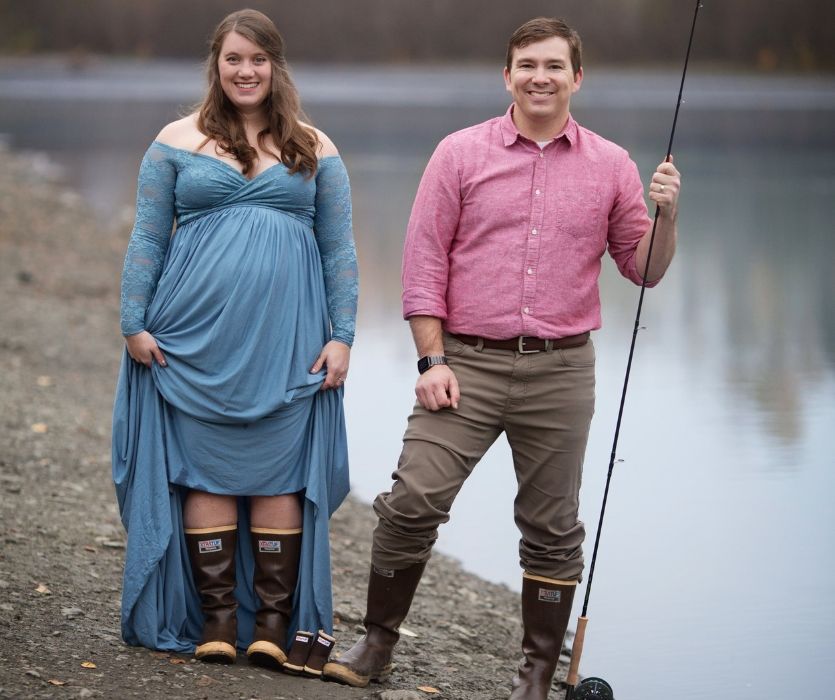 A "Reely" Great Alternative
For those of us who aren't lucky enough to live close to the beach, lakeside photos of your favorite hobby are a great alternative.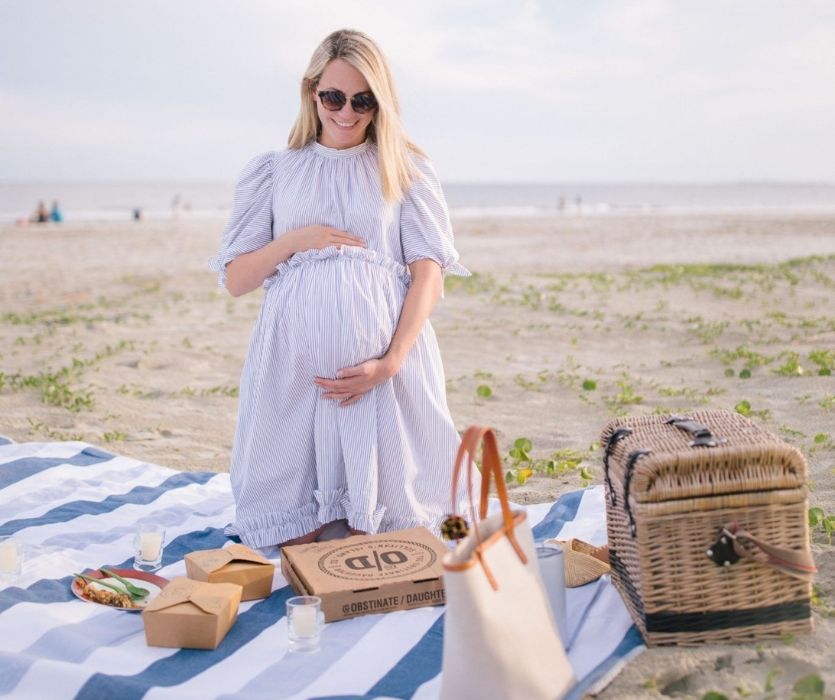 Pack a Picnic
Because you'll probably need a snack (or two) anyway, picnic photos can add a fun and candid feel to your photoshoot.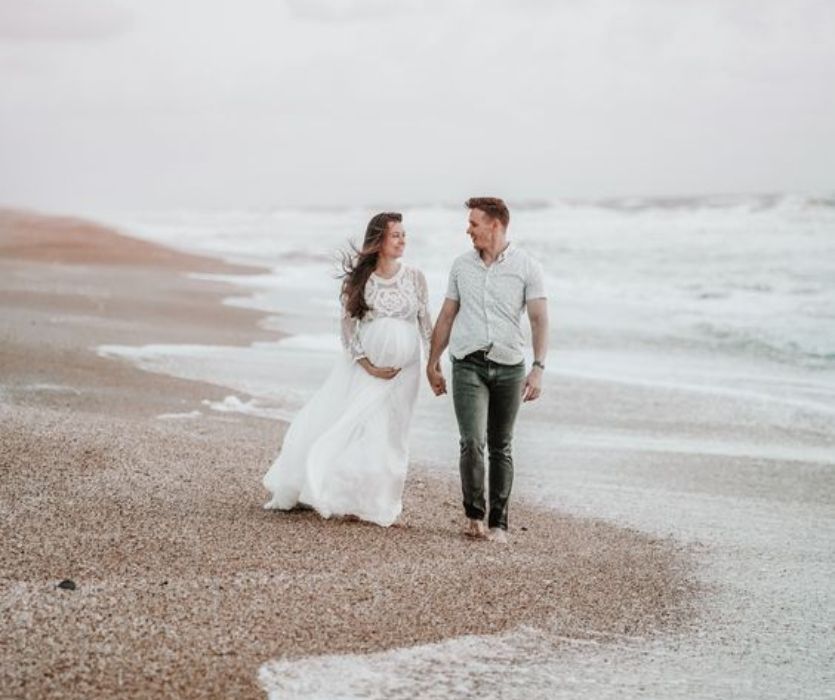 Take A Stroll In The Surf
If going for long walks on the beach was what led to this whole pregnancy thing in the first place, you might as well give it the tribute it deserves with a photo *wink*.
Give Your Belly All The Glory
A close up of your belly anywhere is beautiful; in the water, it's *chef's kiss*.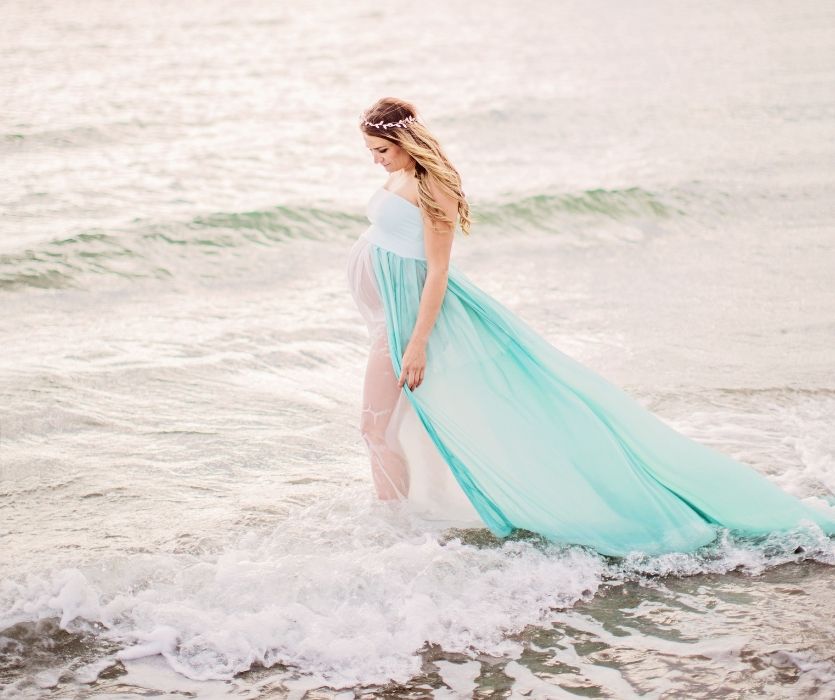 Go With the Flow(y) Fabric
There aren't a ton of times in life when you get to really get gussied up, so if getting a little fancy is your thing, a flowy gown can make for some really eye-catching maternity photos.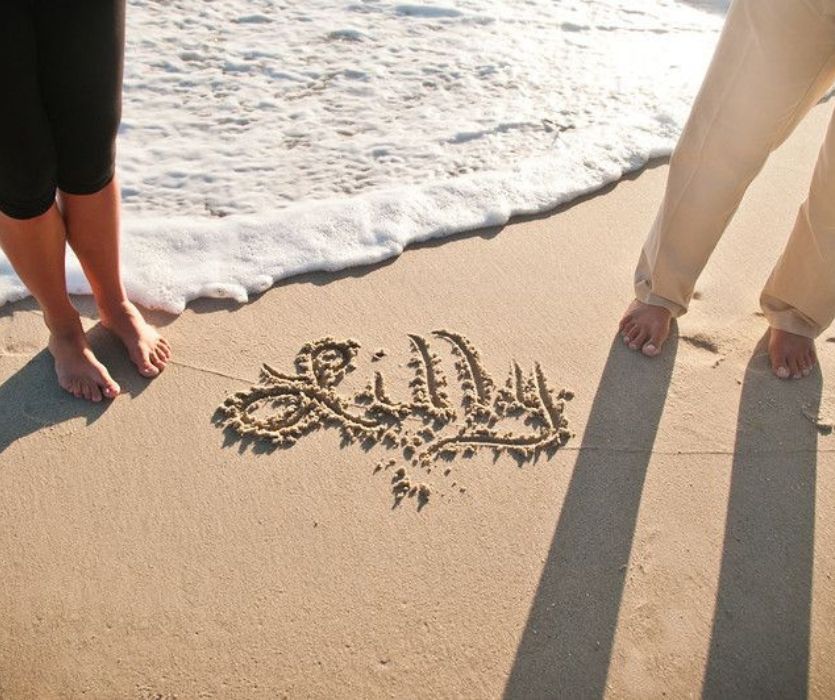 Write a Message in the Sand
Share a sweet message or your baby's name as part of your shoot. This could make a super cute birth announcement or front page in a photo album.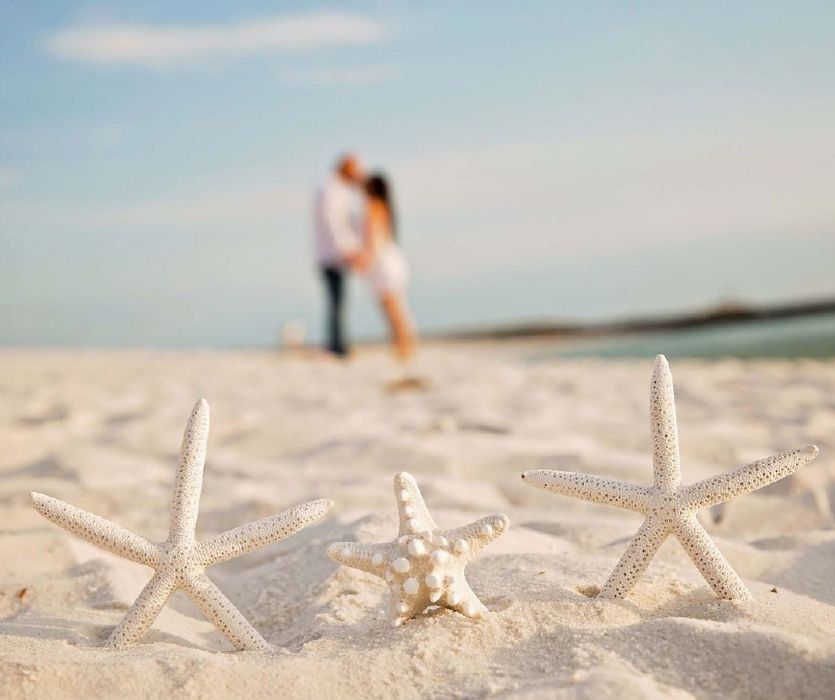 Play with the Theme
Get a little artsy with your maternity photos by collecting some special items from the beach to feature in a creative way. If you're able to bring a few souvenirs with you after the shoot, they'll look pretty spectacular alongside your favorite framed pictures from the day.
Your Favorite Maternity Shoot Ideas?
If you've been looking for a fresh and fun twist on traditional pregnancy photography, I think you'll agree that a beach setting makes a pretty fantastic backdrop for your pictures. Whether you want to be one with the water or would rather keep your toes in the sand, there are a ton of poses, outfits and props that can make your beach maternity pictures truly unique to you and your family. Oh – and if the cost of hiring a photographer is a factor that's got you on the photoshoot fence, grab a tripod or hand your partner a camera phone – you'll be glad you took time to capture the moment after it's gone.
You might also like: Where to Find the Best Maternity Swimwear